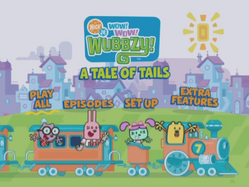 In most of the Wubbzy DVD's, it uses the same Main Menu with a few changes.
What Happens
Wubbzy, Daizy, Widget, Walden, and animals are all seen on a train. After the train goes by we see Wubbzy and Widget in their cloud vehicle from Come Spy With Me. Then we also see Walden reading his book from Widget's Wild Ride.Then we see Wubbzy in the hamster ball from Puddle Muddle and we see Silly the Sillysaurus running then a close up of him, With Wubbzy, Wigdet, Walden riding on him. That episode is from Mt. Fizzy Pop. Then we see Buggy, Huggy, and Earl in their vehicles from Widget's Wild Ride and also we see Wubbzy, Walden, and Widget in the Airplane vehicle from that same episode. After that, we see Daizy Twirling and then we see the 4 on their Skateboards and then at the end, Wubbzy bouncing.
Differences in other DVD'S
In Go for the Gold Dvd, We see Wubbzy holding a torch when he's on the train, and when he bounces at the end. Also, Michelle Kwanzleberry is seen with Wubbzy, Daisy, Widget, and Walden when they are on their skateboards.
In Wubbzy Goes Boo! We see a lot of pumpkins and bat's. And it is dark outside. At the part where Walden read's his book, The Kickety-Kick Ball Bat from Wubbzy's Magical Mess-up is behind him. And at the end where Wubbzy Bounces, He's in his ghost costume.
In Wubbzy Goes Green the sky is now blue and Widget, Daizy, and Walden are doing different poses on the train. Also the part where Wubbzy, Widget, and Walden are on the plane vehicle is absent. Also, a guy from All Bottled Up is shown along with the 4 on their skateboards. At the end, Wubbzy is seen bouncing wearing a hat and holding a shovel.
Ad blocker interference detected!
Wikia is a free-to-use site that makes money from advertising. We have a modified experience for viewers using ad blockers

Wikia is not accessible if you've made further modifications. Remove the custom ad blocker rule(s) and the page will load as expected.