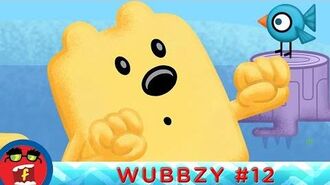 Feeding the Birds is a short from Wow! Wow! Wubbzy! featured after the episode, Wubbzy in the Woods.
Characters Present
Summary
Wubbzy feeds the birds.
Recap
Wubbzy is sitting on a rock with a bag of bird food, getting ready to feed the birds. A bird comes and he feeds him some, then another one comes over and he feeds him too. A third one comes and he gives him the rest of the food. However, a large number of birds arrive, and Wubbzy has no food left. He then has an idea.
Wubbzy goes to the Yum! Yum! restaurant and orders them all a sandwich. They all happily chirped and he laughs.
Transcript
See: Feeding the Birds/Transcript
Gallery
Ad blocker interference detected!
Wikia is a free-to-use site that makes money from advertising. We have a modified experience for viewers using ad blockers

Wikia is not accessible if you've made further modifications. Remove the custom ad blocker rule(s) and the page will load as expected.