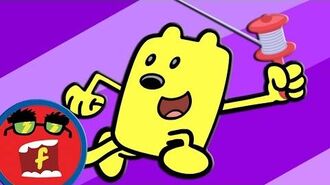 Go Fly a Kite is a short from Wow! Wow! Wubbzy! featured after the episode, A Clean Sweep.
Characters Present
Main characters
Summary
Wubbzy flies his kite, but it comes loose.
Recap
Wubbzy greets the audience and tells them he's going to fly his kite. He get it going and has fun running back and forth with it. The kite keeps going higher and higher until the reel runs out of string. With the kite loose, Wubbzy quickly catches it. Without a reel, he wonders how he'll reel his kite back in. He has an idea.
Wubbzy winds the kite string in by using his tail. He tells the viewers "It's the only way to fly!" and giggles.
Transcript
Gallery
See: Go Fly a Kite/Images
Ad blocker interference detected!
Wikia is a free-to-use site that makes money from advertising. We have a modified experience for viewers using ad blockers

Wikia is not accessible if you've made further modifications. Remove the custom ad blocker rule(s) and the page will load as expected.