Magic Tricks is a Wow! Wow! Wubbzy! episode from season one.

Characters Present
Summary
Wubbzy, Widget, and Walden are going to Moo Moo's Magic School (which is located in Moo Moo's castle.) There Moo Moo tells them if they get a spell right, they earn a gold star. They are taught three magic tricks, but Wubbzy isn't able to do any of them, so everyone else has stars except Wubbzy. Wubbzy almost quits, but returns to find everyone having trouble with a fourth trick; Wubbzy completes the fourth trick and gets a surprise reward!
Recap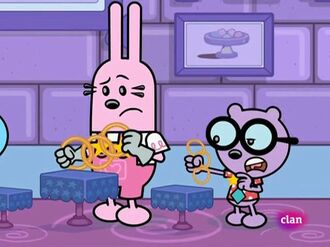 Transcript
Coming soon!
Trivia
Widget is tickled by a rabbit in this episode. One is on her head, one is on her back, two are on the floor, one is in her hand, and one is tickling her. This is the first time Widget is tickled.