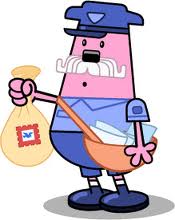 The Mailman is always seen wearing his blue mailman uniform. He has a mustache and is usually (almost always) wearing his mailbag slung around one shoulder.
Appearances
The Mailman first appeared in the episode Special Delivery when delivering Walden's package to Wubbzy. The last episode the Mailman appeared in was Run for Fun, where he ran in the Wacky Dash while still carrying his mailbag .
Ad blocker interference detected!
Wikia is a free-to-use site that makes money from advertising. We have a modified experience for viewers using ad blockers

Wikia is not accessible if you've made further modifications. Remove the custom ad blocker rule(s) and the page will load as expected.