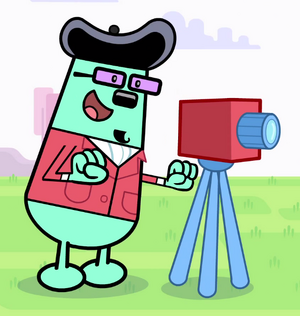 This Photographer is a character from Wow! Wow! Wubbzy!.
Looks
The Photographer has cyan colored skin, small black eyes, a black square-shaped nose, and a black goatee. He wears a beret, glasses with purple rectangular lens; a red suit with a cravat, and a white shirt under them according to his wrists.
Ad blocker interference detected!
Wikia is a free-to-use site that makes money from advertising. We have a modified experience for viewers using ad blockers

Wikia is not accessible if you've made further modifications. Remove the custom ad blocker rule(s) and the page will load as expected.