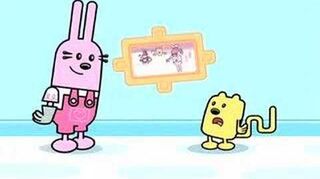 Picture Perfect is a short from Wow! Wow! Wubbzy! featured after the episode, Escape From Dino Island.
Characters Present
Summary
Wubbzy hangs up a picture of his friends, but it won't stay straight.
Recap
Wubbzy hangs up a picture of him, Widget and Walden. He greets the viewers and tells them that he's hanging up the picture, then it slants. Wubbzy fixes it, then it slants again. He fixes it again, then it turns upside-down. Widget comes by and Wubbzy tells her that the picture he's trying to hang up won't stay straight, then it turns on its side. She has an idea,
Widget built large structures to hold all four sides of the picture frame. Although it won't slant anymore, the structures made the wall fall apart. Widget was upset, but Wubbzy laughs regardless.
Trivia
Jim Henson Productions reference is used in this episode when Wubbzy put the picture up. Suddenly the picture tilts.
Transcript
See: Picture Perfect/Transcript
Gallery
Ad blocker interference detected!
Wikia is a free-to-use site that makes money from advertising. We have a modified experience for viewers using ad blockers

Wikia is not accessible if you've made further modifications. Remove the custom ad blocker rule(s) and the page will load as expected.