The Grass is Always Plaider
is a
Wow! Wow! Wubbzy!
episode from
season one
.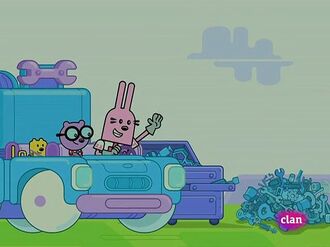 Characters Present
Summary
Wubbzy, Widget, and Walden visit Pladville when they find Wuzzleburg boring.
Recap
Wubbzy, Widget and Walden get bored with their favorite things and Wuzzleburg itself. A man from Plaidville drives up and tells them about Plaidville, so the three friends decide to visit Plaidville. But Plaidville starts boring them even more, with the same things to do every day. When all the Plaidville residents find how "cool" it is to be a different color, Wubbzy, Widget, and Walden decide that Wuzzleburg is an exciting place after all.
Trivia
The name of this episode is a parody of the phrase "The grass is always greener on the other side."
This is the first episode to air in 2007.