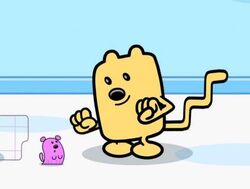 Tiny
is a Fleegle
Wubbzy
adopted in
Attack of the 50-Foot Fleegle
.
How to take care of a Fleegle
Congratulations! You've just got a brand new pet Fleegle! Here are some simple steps to take care of it:
Always pay attention to your Fleegle! You may never know what may happen.
NEVER, repeat, NEVER feed your Fleegle and candy or sweets. It will grow up to 50 ft. and become unstoppable!
Always feed it healthy foods.
In the event that you do feed it candy or sweets, the best way to get it back down to size (a healthy 2 inches tall) is to fill it up with carrot juice.
Follow the rules above.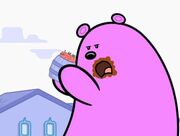 Appearances
Tiny is featured in Attack of the 50-Foot Fleegle. He also appears in the music video for the song Pet Party.
Ad blocker interference detected!
Wikia is a free-to-use site that makes money from advertising. We have a modified experience for viewers using ad blockers

Wikia is not accessible if you've made further modifications. Remove the custom ad blocker rule(s) and the page will load as expected.