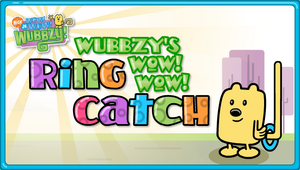 Wubbzy's Wow! Wow! Ring Catch is one of the three Wubbzy games, along with Widget's Build a Robot and Walden's Delightful Dress Up, that was posted on NickJr.com months before Wow! Wow! Wubbzy! aired.
Plot
Rings are falling from the sky and Wubbzy has to catch as many as he can within the time limit.
Controls
Move the mouse around to move Wubbzy.
Gameplay
The player must move Wubbzy around the screen to collect rings by catching them on his tail. He collects a point for each ring he catches. Every now and then, a kickety-kick ball will fall, and when it bounces on Wubbzy's head, he'll get two points. For each bounce, he'll get one point more, and the ball will bounce higher. Each ball can be bounced.up to six times adding a total of 27 points. If Wubbzy gets hit by a falling acorn or book, he'll be immobilized for a second.
The game has four stages and all have a time limit of one minute. Your score will be added up after the forth level. Each stage has slightly different mechanics.
Level 1
Level 2
Level 3
Level 4
Music
(The music used is listed above.)
Trivia
Links
English: http://web.archive.org/web/20070717063513/http://www.noggin.com:80/games/wubbzy/ring/index.php
Portuguese: http://web.archive.org/web/20170218103110/http://www.rtp.pt/wportal/sites/tv/wubbzy/aneis.html
Gallery